Hexagon Pixel Delivery
provided by Hexagon
What a product to start our 2022 calendar! Very high resolution multispectral imagery, elevation datasets, as well as stereo imagery, all can be instantly accessed through Hexagon Pixel Delivery.
With availability over the United States, Europe and some parts of Canada and up to 40cm spatial resolution, these datasets are ideal for extracting features with A.I. and machine learning algorithms within your company's pipelines, or creating analytics reports for the Agriculture, Oil&Gas, and Infrastructure Market.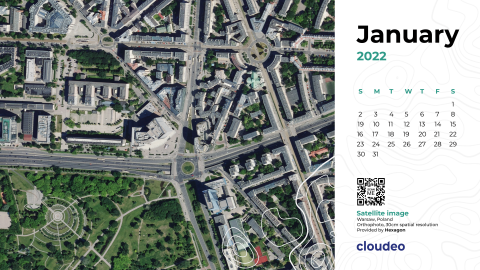 Landscape
Ideal as a background for your desktop or laptop's screen! Download for free the January calendar page at 16:9 aspect ratio:
I want it!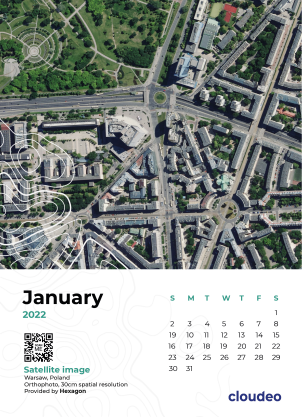 Portrait
For those that are in favor of printed calendars, here is a January page for you! Designed for an A4 size page, you can download it for free, print it on an A4 (or smaller) paper, and let it be a what-day-is-it-consultant in your office.