Elevation1
provided by Airbus Defence and Space
For any areas with little vegetation and/or with no buildings, this product is perfect for terrain analysis and relief mapping at large scales. Elevation1, provided by Airbus, provides very high-resolution terrain relief models on demand anywhere in the world.
The model comes in two formats, generated from the Pleiades imagery: Digital Surface Model and Digital Terrain Model of up to 1.5m vertical accuracy at 1m grid spacing. Do you want to make a line-of-sight analysis, terrain analysis for construction works, or water flow modeling at high accuracy? Then Elevation1 is what you need!
Landscape
Ideal as a background for your desktop or laptop's screen! Download for free the February calendar page at 16:9 aspect ratio:
I want it!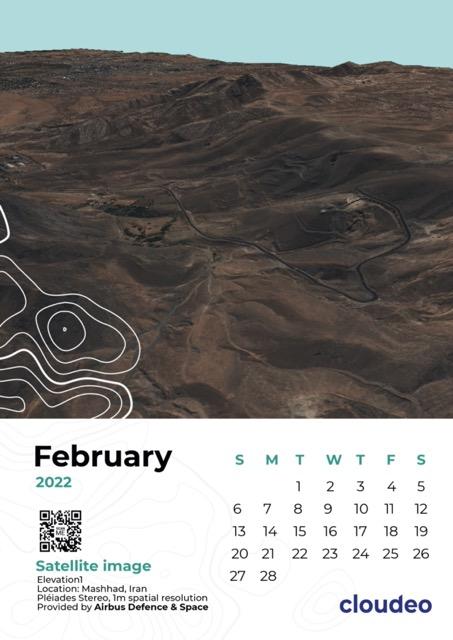 Portrait
For those that are in favor of printed calendars, here is a February page for you! Designed for an A4 size page, you can download it for free, print it on an A4 (or smaller) paper, and let it be a what-day-is-it-consultant in your office.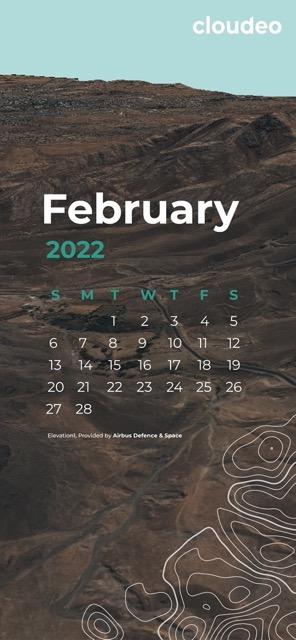 Mobile
Always on the move? Then we have an option for you, too! Download our mobile-sized version for free and have the calendar always-on-screen.