A large wildfire broke out in the Bordubet region of southwestern Turkey on 21-06-2022. However, due to strong winds, it quickly spread near the holiday resort of Marmaris on Turkey's Aegean coast (Euronews).
According to CNN, "Authorities have blamed arson for the blaze. The human-made climate crisis is making heatwaves and wildfire seasons longer and more intense across parts of the Mediterranean, experts noted last year, regardless of how fires are started."
One year ago, the area faced another massive wildfire in the southern part of Marmaris. Strong winds, low humidity, and temperatures above 40 degrees Celsius (104°F) have contributed to the spread of the fire (Reuters).
The following timelapse shows the devastated areas of these two large wildfires near Marmaris using Copernicus Sentinel-2 satellite imagery and the Sentinel Hub platform: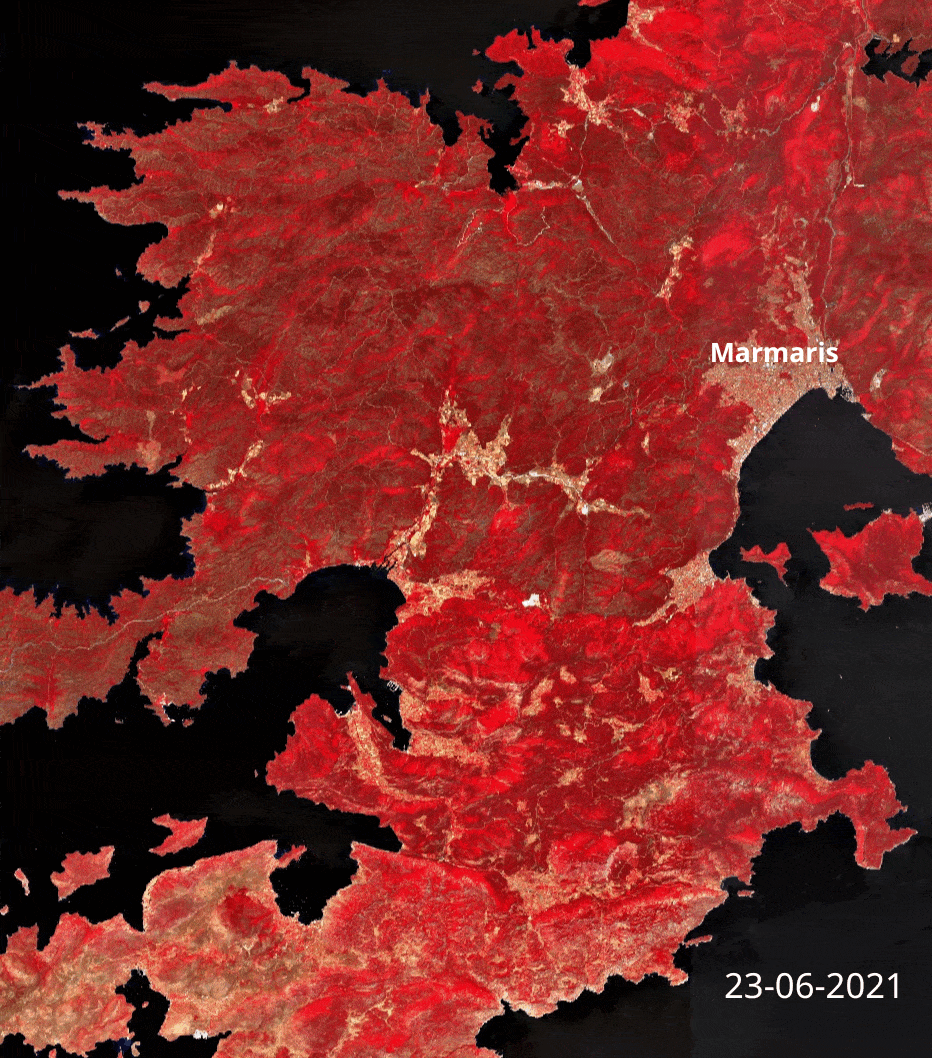 More specifically, the broader area is shown as it was on 23-06-2021 before the fires. The red color indicates the coverage of dense and healthy vegetation, the white color shows all the man-made structures (e.g. towns, road network) and the bare land, while the black color defines the water bodies.
The wildfire events:
On 28-06-2021,  a forest fire of a small extent occurred south of the town of Marmaris. The burnt scar appears as the black area just south of Marmaris.

On 02-08-2021, the burnt area of the massive wildfire is visible from space. 

On 23-06-2022, almost one year later, a large wildfire strikes the area once more. Smoke from the front of the fire is also visible.
Remote sensing and geospatial technologies can assist in fire monitoring applications. Forestry experts, government decision-makers, insurers, and brokers can gain valuable insights into the location of the fire spots, the direction of fire expansion, and whether there were properties severely affected by the fire event.

Image credits thanks to European Space Agency - ESA Copernicus Programme.
Get multispectral satellite imagery for forestry applications
Find satellite imagery of up to 30cm spatial resolution and start saving time and money.