Central Greece has been hit by two devastating flooding events within just 20 days. The first deluge was triggered by 'Storm Daniel' on September 4, with torrential rains exceeding 600mm in some places – more than the annual rainfall. This resulted in roads, homes, and crops submerged beneath the floodwaters, with central and north-central national highways closed and rail services suspended.
The second calamity, 'Storm Elias,' struck the area on September 27, inundating thousands of homes, causing power outages, and damaging critical infrastructure. 

The following visual shows the location of the devastated areas in Central Greece due to these two flood events, using Copernicus Sentinel-2 satellite imagery and the Sentinel Hub platform: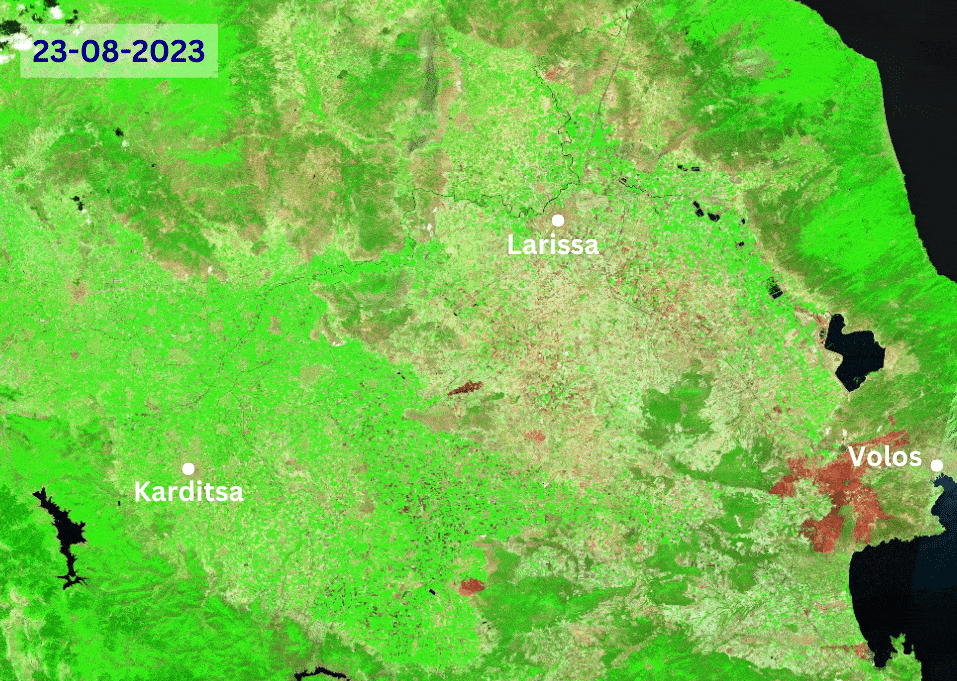 The satellite imagery used for the animation covers two months, including the two flood events and how the area was right before the catastrophic events.  Specifically, the acquisition dates of the selected satellite images are:
August 23rd, 2023 (before)

September 10th, 2023 (after the first flood event)

September 15th, 2023

September 30th, 2023 (after the second flood event)

October 5th, 2023

October 10th, 2023

October 15th, 2023

October 20th, 2023 (latest available Sentinel-2 image)
The flooded area was estimated to be 72,000 hectares, with the total area that was affected by the flooding, as was calculated by our team, being just over 120,000 hectares, including mainly croplands and private properties (figure below).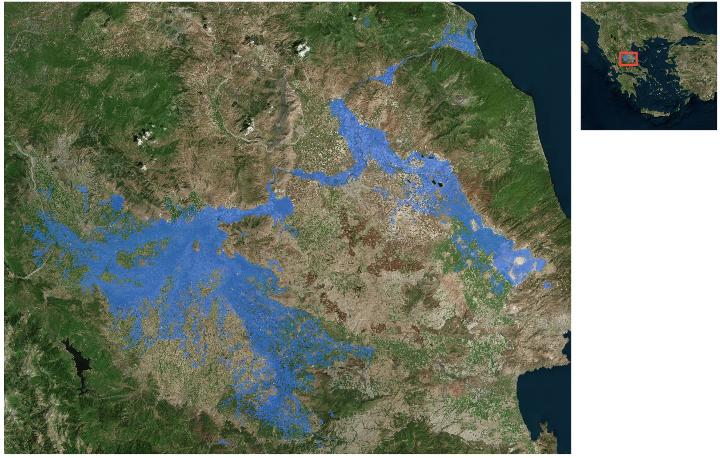 These consecutive crises serve as stark reminders of the escalating climate crisis, urging governments to enhance their preparedness. To this end, satellite imagery combined with relevant geospatial data can indicate the level of impact caused by a severe environmental phenomenon, such as floods. With the proper analytical methodology, meaningful insights can be retrieved, not only for damage assessment and monitoring of such devastating events but also as support in the humanitarian efforts performed worldwide.

Image credits thanks to European Space Agency - ESA Copernicus Programme.
Get multispectral satellite imagery for disaster monitoring
Find satellite imagery of up to 30cm spatial resolution and level up your applications.